DSC-USTP Solutions Week
Feb 27, 2021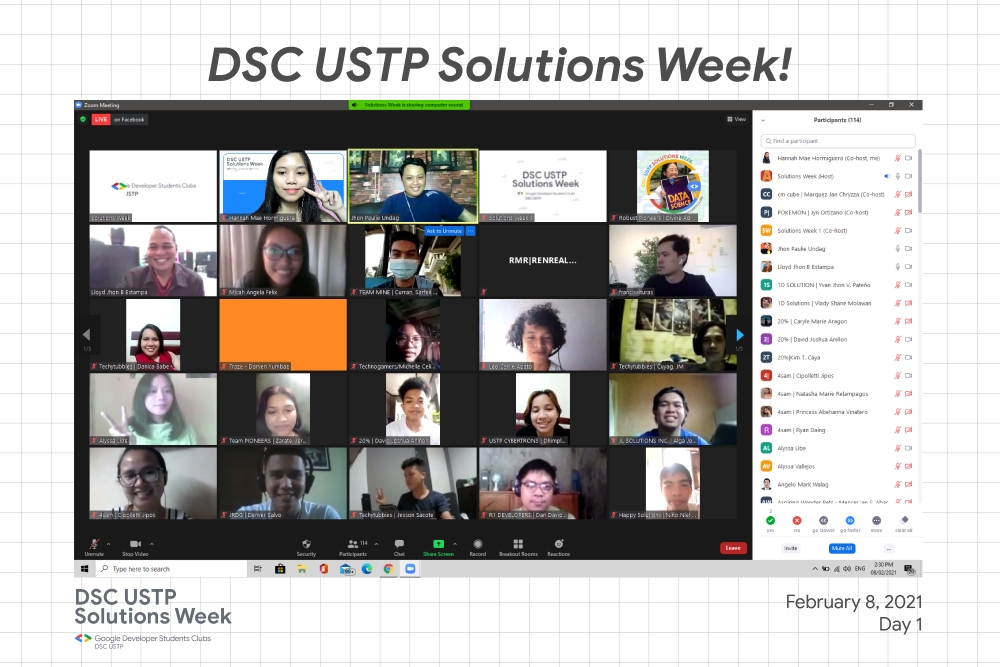 Day 1 photo op of the participants, speakers and guests
CAGAYAN DE ORO CITY - The Google Developer Student Club of University of Science and Technology of Southern Philippines - CDO Campus (DSC-USTP) just had its first Solutions Week which was virtually held last February 8 to February 12, 2021.
The student club's Solutions Week 2021 event aims to drive every student participant's critical-thinking skills, creativity, and camaraderie by utilizing Google's technologies to create a solution from a problem that coincides with at least one of the 17 Sustainable Development Goals or SDG. It consists of a series of online technical discussions, mentoring sessions, and a pitching event wherein participants gather, learn together and from each other. Experts from different technological backgrounds impart their proficiency and skills to aid in nurturing the solutions created by the participants. In the pitching competition, teams will compete against each other by showcasing their created prototypes and video presentations.
Day 1 started with a bang. The audience was welcomed with encouraging messages from the University President, Dr. Ambrosio Cultura, DSC Global Lead, Ms. Erica Hanson, Mr. Shad Roi Dela Cruz, and USTP Alumni, Mr. Matthew Maulion. The afternoon session mainly consisted of respectable speakers from different firms discussing Design Thinking, UI/UX Design, and Flutter namely USTP-SHS Principal, Engr. Lloyd Jhon Estampa, Co-founder and Chief Design Officer, Mr. Francis Alturas, and Software Engineer, Engr. Joshua de Guzman.

Day 2 of the week-long event was a series of talks and engaging discussions from Mr. Dylan Chavez who shared about Machine Learning, Mr. Geoff Diaz's Firebase integration walkthrough, and a Project Pitching presentation from Dr. Amparo Vendua-Dinagsao.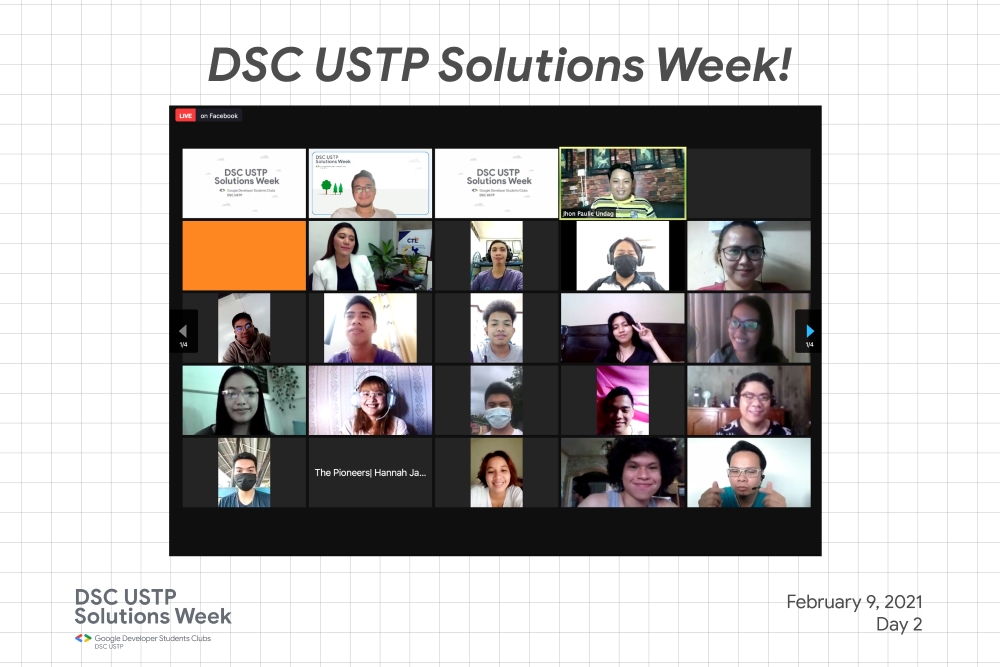 Day 2 photo op of the audience with the speakers

For the third day, it was mainly about each team reaching out to their respective mentors.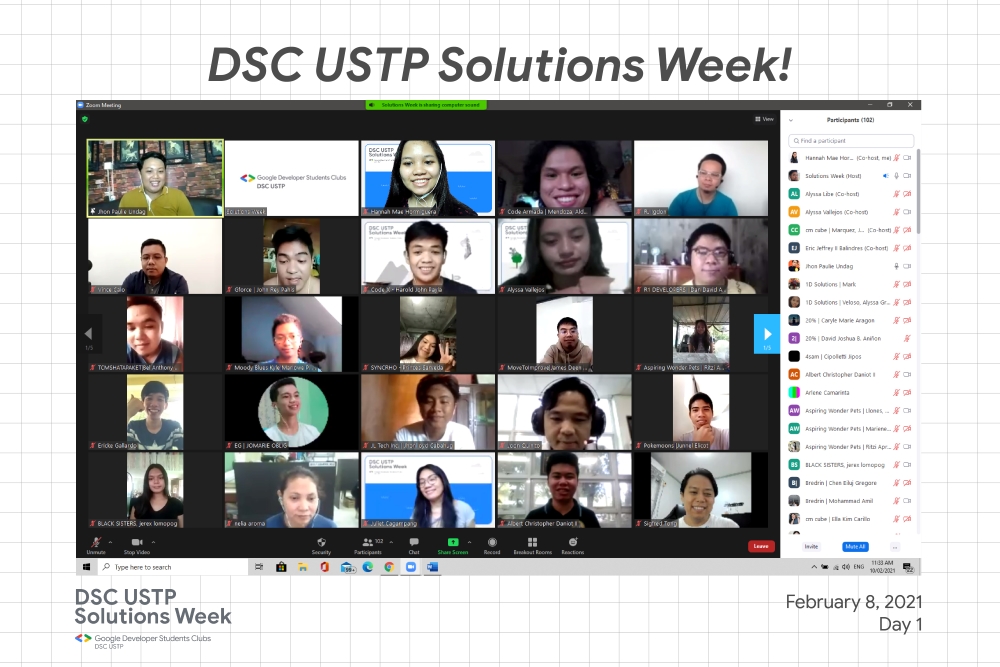 Day 3 photo op with participants and their mentors
On the fourth day of the said event, each team polished their solutions along with their video presentations that we, the judges, have to choose by the evening. Along with me are Ms. Shoraliah Macalbe, the TBI Manager of CDO B.I.T.E.S, and Engr. Ulrich Uy, the Project Manager of USTP-CDO's Digital Transformation Office. Evening arrived and the judges were then sent with a compilation of video presentations made by the students highlighting their solution's relevance in mitigating the problems they stated. We have to carefully choose and critique which teams proceed to the final round based on their submissions and from those chosen ones, we have to select which has the best video presentation and project prototype. It was supposed to be ten teams, but due to the tie in acquired points after judging, considerations have been made, thus, having fifteen teams progressing to the final round.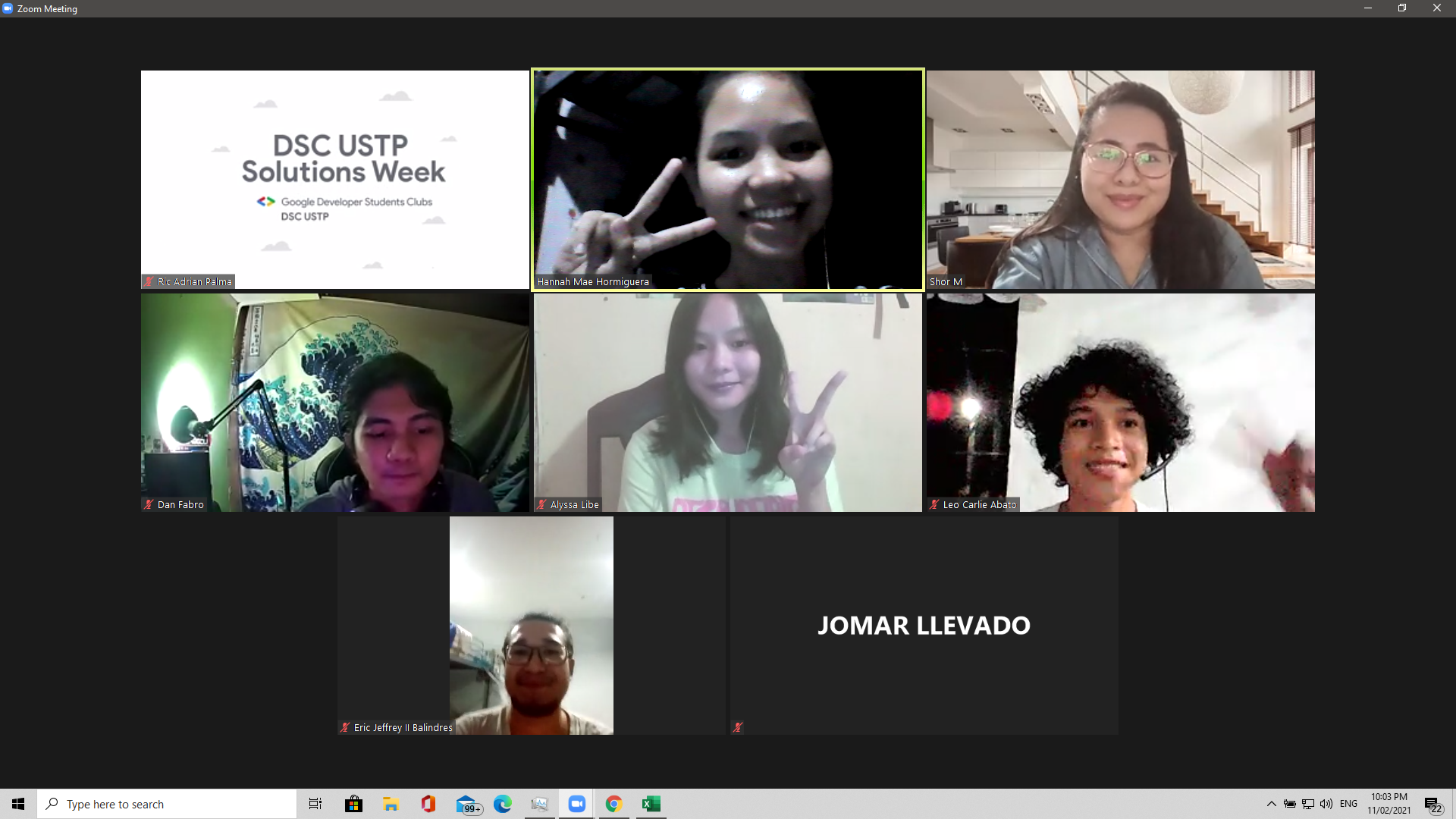 Day 4 photo after deliberation of teams that will proceed to Live Pitching
The teams that made it to the final round were:
1D Solutions
4sam
Bredrin
ENSURE GOLD
JAML
JRDG
Kwatsi
Newbie R Us
POKEMON
Robust Pioneers
RUSHED
Techytubbies
TrAZe
USTP CYBERTRONS
ValoTech
The final day arrived and everyone's virtually cheering and rooting for their bets. Each member of the team showed the best version of themselves, prepared their awesome project pitch and prototype, and tried to answer our questions. In my regard, I am highly inclined towards solutions that targets perhaps one massive problem from the given 17 SDGs or more, the solution presented is backed with relevant and reliable data, solutions that specify the technology stack they are about to use and how it is associated with it, and that the solution itself is sustainable.

Some of my picks that best suited some of the aforementioned preferences were:
TeleDrop by Team TechyTubbies
TeleDrop is a mobile application that, according to the team members, utilizes Google Cloud's Vision API and Flutter programming language to map out the groundwater depth of data around a specific area, namely Sitio Pamalihi around Brgy. Pagatpat, that is experiencing water supply problems. This solution helps users of the said area to detect potential groundwater establishment and even safe surface water locations. Furthermore, the team also wanted to integrate Google's ARCore technology to maximize user-friendliness.
DARA by Team POKEMON
DARA is computer vision software that detects the attentiveness and mood or energy level of students for each online class or engagements and then creates analytical reports for the teacher to assess the vibe of the class they conducted. In my honest opinion, this solution has a potential to be a startup.
Converse by Team Ensure Gold
A sign-language translator application for the speech impaired that utilizes Google Cloud's AutoML Vision to translate the sign commands of the user to text or speech.
After a whole afternoon of pitches and throws of questions and answers and our final deliberation as judges, the declared winners were:
Team TechyTubbies - Champion
Team USTP CYBERTRONS - 1st Runner Up
Team POKEMON - 2nd Runner Up
Team TechyTubbies also won as the best video presentation. To know more about the event and the Developer Student Club - USTP, visit this link: https://www.facebook.com/dscustp
To "disrupt" in this ever-changing world, old concepts somehow have to adapt to change, out-of-the-box solutions need to be heard, and innovative ideas should be embraced. I'd like use a quote from Albert Einstein: "Great spirits have always encountered violent opposition from mediocre minds." Indeed, regardless of what others might have to say, bring out your ideas in the open and push on!