Innovuze Solutions Inc. Virtual Christmas Party 2021
Dec 31, 2021
"Christmas waves a magic wand over this world, and behold, everything is softer and more beautiful."
-Norman Vincent Peale
As we celebrate with our family, friends, and coworkers, the Christmas season can get overwhelming. The trees and parks gleam with carefully placed lights and lanterns as we're busy choosing the best gifts to wrap for our loved ones. Despite the pandemic, there truly is enough reason to be joyful.
Most of us have been remotely working for over a year now in the new normal world. And at every festival, get-together, or social gathering, safety has been on the top of the list of priorities. Due to limits and restrictions, we have now found different avenues to celebrate Christmas, using more modern ways to bridge the distance and share the Christmas spirit. Last December 28, 2021, Innovuze Solutions Inc. hosted its second Virtual Christmas Party.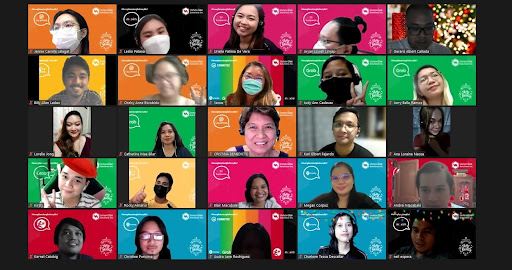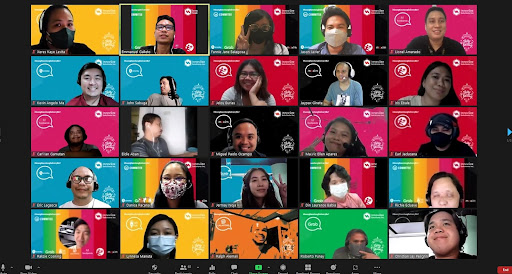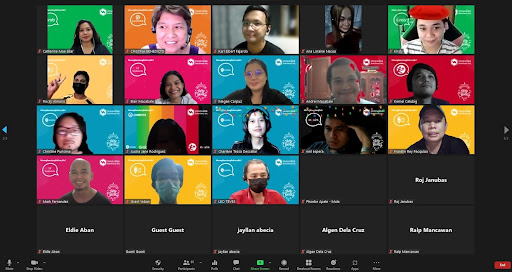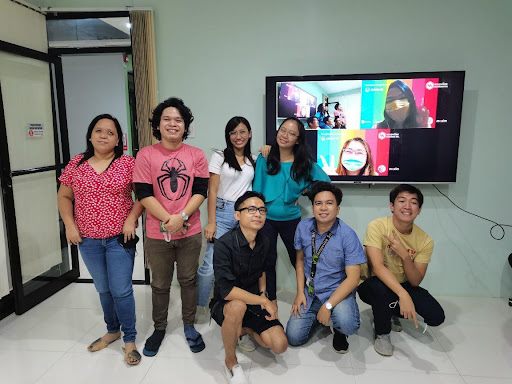 Due to lockdown limitations, the usual buffet is out of the question, however, Food Delivery services have shown that even at home, enjoying your favorite food is just a message away. So, the committee came up with the idea of using Online Food Delivery Services as the theme using the hashtag #AnongKwentongDeliveryMo?
Food Delivery Services offer convenience and comfort in getting our necessities be it a rainy or bright day. These food delivery services are front liners and unsung heroes. Keen on the message of delivering happiness despite these trying times, the committee also held a social media campaign using the hashtags #InnovuzeDeliveringHappiness #InnovateSolveInspire and #InnovuzeChristmasParty2021 to share the message and show our support for the service people. The platforms FoodPanda, GrabFood, StreetBy, Maxim, Toktok, LalaFood, and Konbini were used as the seven groups that ISI employees were divided into, which would later play in to the challenges and games of the virtual Christmas party.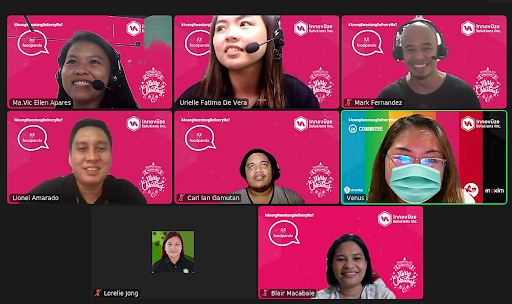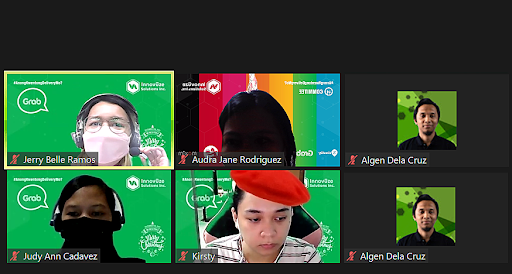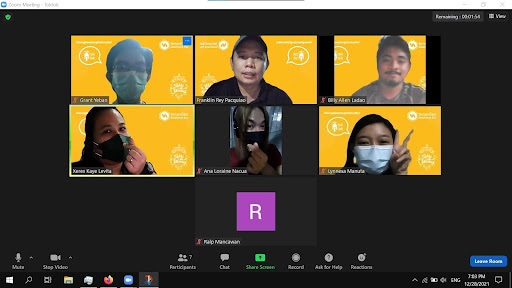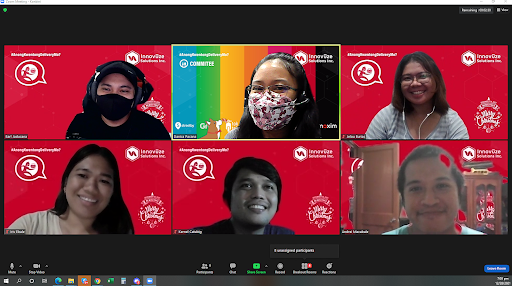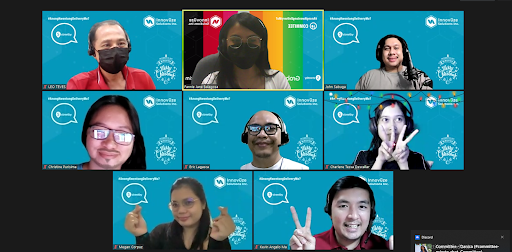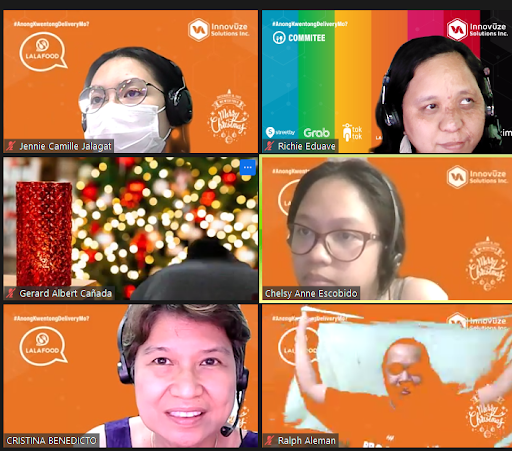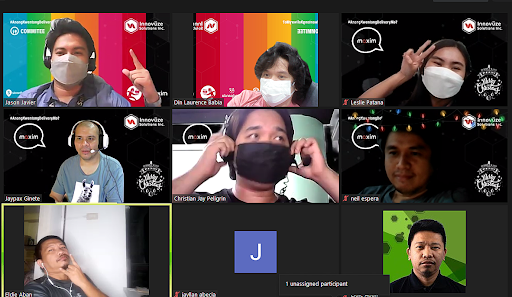 Each team, as well as the Event Committee, was required to create a Video Presentation before the event, which will be posted on ISI Social Media Platforms. These videos were used to share stories of how the people of the Delivery industry have made an impact in the daily lives of Filipinos. These videos will have been shared through social media platforms, and the one that garnered the most reactions will have been declared the winner.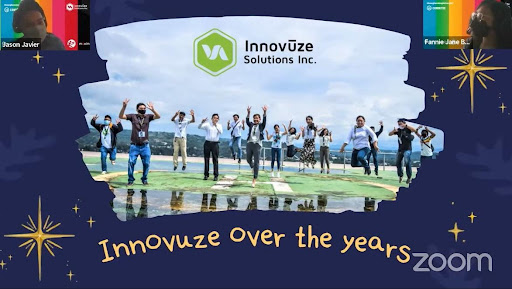 The program began with the opening salvo of Innovuze Over the Years, hosted by the chirpy and hilarious pair of Fannie Jane Balagosa and Jason Javier.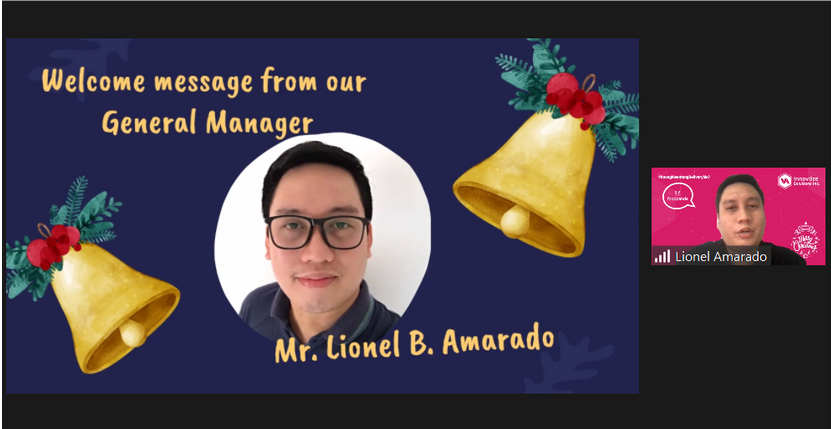 Mr. Lionel B. Amarado, Innovuze's General Manager, gave a hearty welcoming message. First off thanking the committee for their efforts, being hopeful that next time we can celebrate not just virtually but in each other's presence. He also shared that he had 4 wishes for this event, that we get to know each other better and have fun with everyone in the team, that this event will give us hope for better things to happen, give appreciation to people and every members in the team, and finally that we can hopefully share with others and our community, especially those in need. When Sir Lio revealed that he prepared a Christmas present for everyone after the team roll calls and photos, everyone cheered with grateful applause! Then the Innobabies, the newest employees of the company, delivered a unique film with a surprise presentation by the company's HR Manager Ms. Lorelie Jong.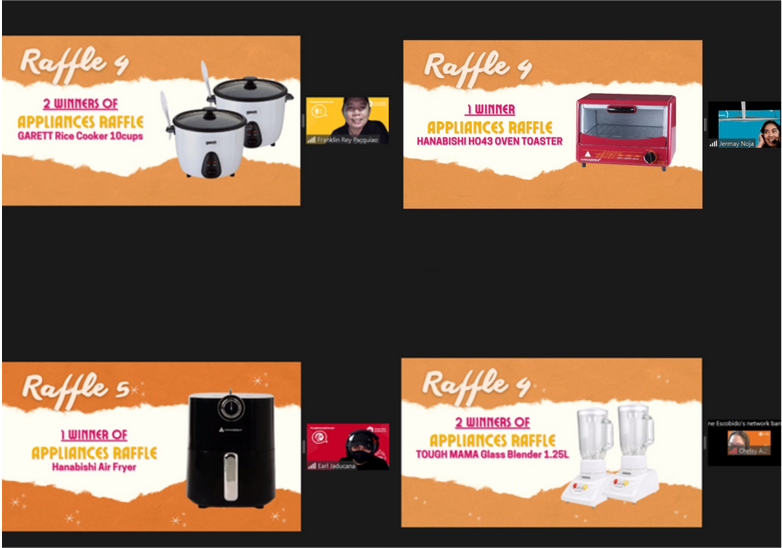 ​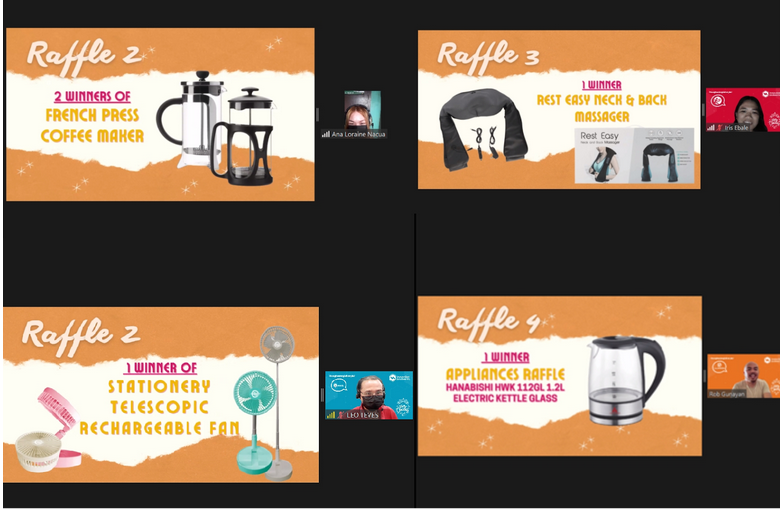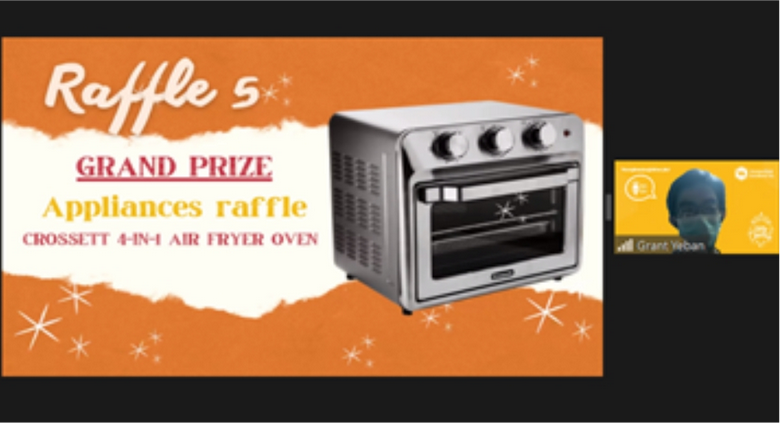 Games and Raffle Draws
Before the raffles began, we had the showing of the videos from Team FoodPanda and Team GrabFood, and both were outstanding, and you know they really put effort into their presentations.
After that we had our first round of raffles where 6 employees received FoodPanda credits and 7 received cash prizes. Up next we level up the stakes with 3 employees receiving Noche Buena packages.
We then go into the first round of our major raffle prizes where the lucky Ma. Vic Ellen Apares and Ana Loraine Nacua won Coffee Makers, Vergel Atoc got the Rechargeable LED Touch Lamp, Leo Teves won a Telescopic Fan, and Richie Eduave won an Air Humidifier.
Congratulations were shared all around for every winner, but still a lot of hopefuls remained as there were still many major prizes to be claimed.
Taking a break from raffles and chance, the teams were pumped up and determined to win the first game, Battle of the Brains. A trivia game, everyone became let out their inner geek with Team Maxim proving to be the geekiest of them all. Following that, Team StreetBy and Team Maxim put on a wonderful show with their respective video presentations.
Up next we had the third round of raffles where 20 employees won foodpanda credits and cash. The second game, Guess that Baby Pic, is exactly what it sounds like. Baby photos of ISI employees were shown and everyone had to guess who it was. Taking the win this time is Team FoodPanda.
The last set of video submissions created by Team Toktok, Team LalaFood, and Team Konbini wowed everyone, and was then followed by the next round of raffle winner where 24 employees won FoodPanda credits, cash prizes, Noche Buena packages, and appliances.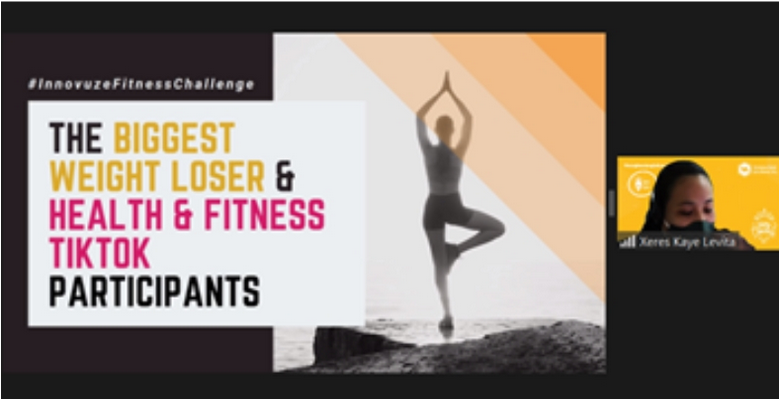 ​
Innovuze Solutions Inc., in collaboration with Nurse Xerxes Kaye Levita, organized the inaugural #InnovuzeFitnessChallenge, which was attended by various employees.
The Biggest Weight Loser was the first category, with Ms. Lorelie Jong taking 5th place, Kevin Angelo Ma taking 4th place, Niel Espera taking 3rd place, Ralp Mancawan taking 2nd place, and the Grand Champion was Mr. Niel Mula. The second challenge was the Tiktok Health and Fitness Challenge, which was won by none other than Ms. Danica Pacana. Congratulations to everyone and may we all continue to progress in our fitness journeys!
It's time for another raffle! Revemar Grace Surigao and Jelou Burias were the lucky winners among the Health and Fitness Challenge contestants.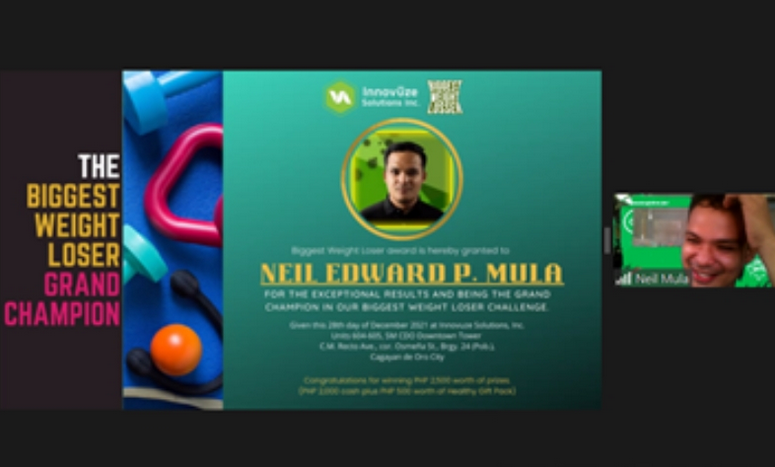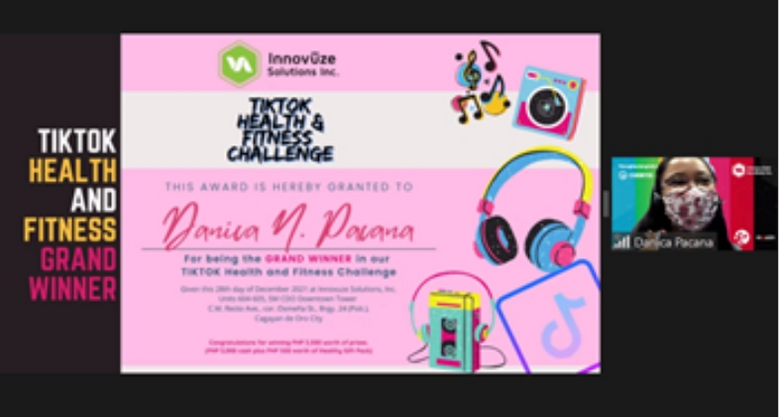 ​The final game of the night called Bring me with a Twist, was open for everyone! With all ISI employees actively participating in being asked to bring all sorts of things to show on screen, the winners were Jennie Camille Jalagat, Charlene Tessa Descallar, Jerry Belle Ramos, Urielle Fatima De Vera, Kevin Angelo Ma, Billy Ladao, and Karl Elbert Fajardo.
For an ice breaker, the Committee also prepared a thought-provoking yet humorous video for the audience. Everyone laughed and cheered with how crazy yet funny the video was.
The final raffle was held, and four people received cash prizes: Jerry Belle Ramos, Kernel Sandi Catubig, Earl Jasone Jaducana, and Grant Yeban for Grand Prize. The Community Incentive Program, Gift Exchange, and Awarding Ceremony followed suit.
Our well-loved Ms. Cristina A. Benedicto, Innovuze's Accountant, was honored for her retirement before the celebration ended.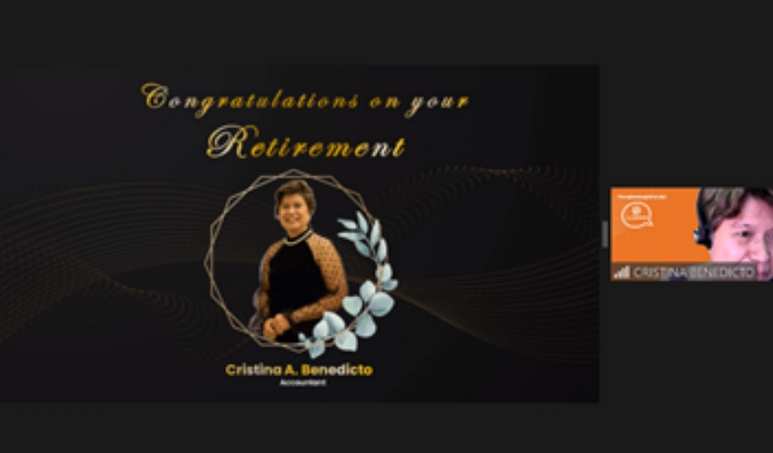 ​
Everyone believed the celebration was over until a celebrity guest arrived: ISI's king of memes, Anonimas, with a special present from Ms. Cristina Benedicto.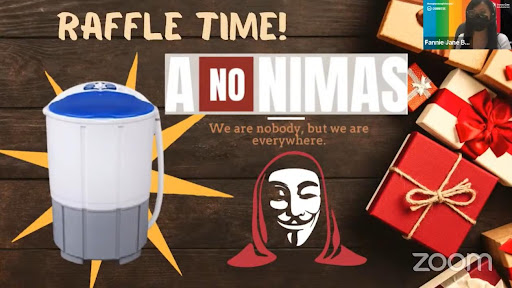 The awarding of winners was announced and Team FoodPanda was the overall winner for the games and Team StreetBy was the winner for the Team Video Presentation. Great job guys!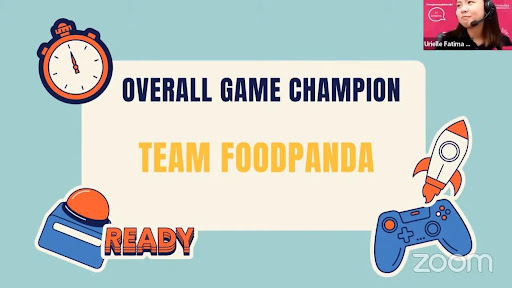 To bring the evening to a close, a few delivered short messages of thanks, beginning with Engr. Franklin Rey Pacquiao, the Operations Manager, followed by Mr. Lionel Amarado, the General Manager, and finally, Mr. Emmanuel Galleto, the Christmas Party 2021 Committee Head.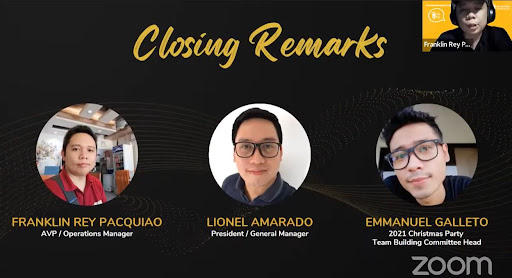 It was, without a doubt, a fantastic and enjoyable virtual Christmas party. From the Innovuze family, Merry Christmas and a Happy New Year!