My Top 3 Startups at Beacon Demo Day
Mar 06, 2020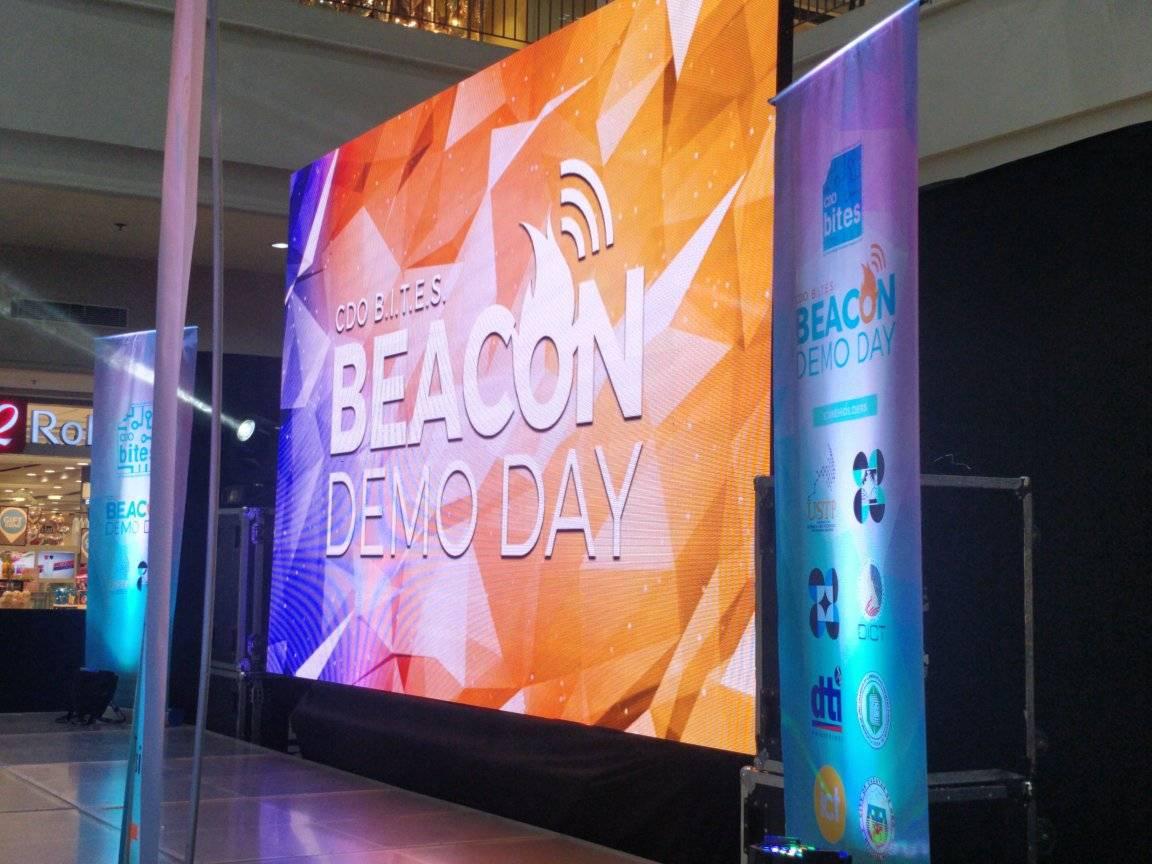 CDO B.I.T.E.S. Beacon Demo Day held at Limketkai Center
CAGAYAN DE ORO CITY - I got invited to CDO B.I.T.E.S. Beacon Demo Day event last February 26, 2020 at the Limketkai Center Rotunda.
CDO B.I.T.E.S., which stands for Cagayan de Oro Business Incubation Technology Entrepreneurship and Startups, is a startup incubator located inside the University of Science and Technology of Southern Philippines (USTP) CDO campus that has partnerships with government agencies such as DOST, DTI and DICT.
The Beacon Demo Day event is about showing the public the products and services that their incubated startups have created or built.
There were 12 startups presenting that day and I'm picking my Top 3 based on my experience as a software developer taking into consideration which technology they used, how they used it, and the usability of the prototype. I won't comment much on the business aspect since that's not my area of expertise.
But before I mention my Top 3, let's start with my honorable mention.
Pic-a-talk
Pic-A-Talk is a mobile platform for children with special needs. It's targeted for children with speech impairment to communicate and connect with other people.
With images and icons for everyday objects and actions, a child will select any combination of these images that is converted into a sentence then conveyed to speech using the mobile device's speakers. The images are large, brightly colored, and have larger hit boxes which should be very easy to click on. This is, in their tests, easy to use by special needs children. The images are also customizable.
It should be fairly easy to move this into a larger mobile device like a tablet. They just don't have the backend infrastructure (ie. servers and database) built to support the mobile app.
You can reach the developers of Pic-a-talk at yumielouise@gmail.com.
My number 3 pick...
Veg E-Fish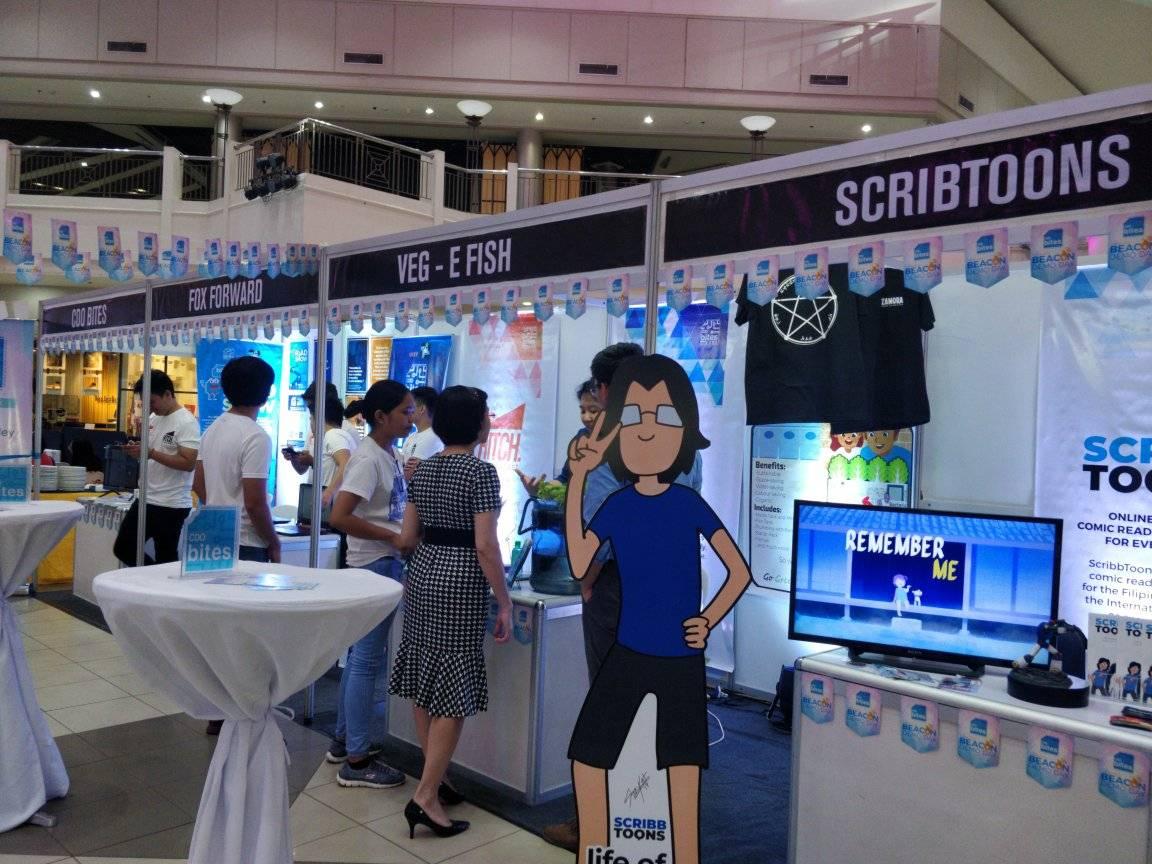 Exhibit kiosks of CDO BITES, Fox Forward, Veg E-Fish and Scribtoons during the Beacon Demo Day at Limketkai Center
Veg E-Fish is interesting because it isn't selling an app or service. They are selling an aquaponics kit which they claim to be easy-to-assemble and affordable.
Their demo kit was using a 4 gallon plastic container from water dispensers. They cut and removed the upper part and mounted their kit to it via hoses and tubes. From what I can understand, the kit has a pump, filter and an automated feeder. They plan to make kits in different configurations like a kit equipped with sensors.
I can see the potential of it for hobbyists and backyard farmers. How they are going to source the kits is a concern at the current time - ie. Covid-19.
Veg E-Fish's email is vegefish.cdo@gmail.com.
My number 2 pick...
WiTech Innovations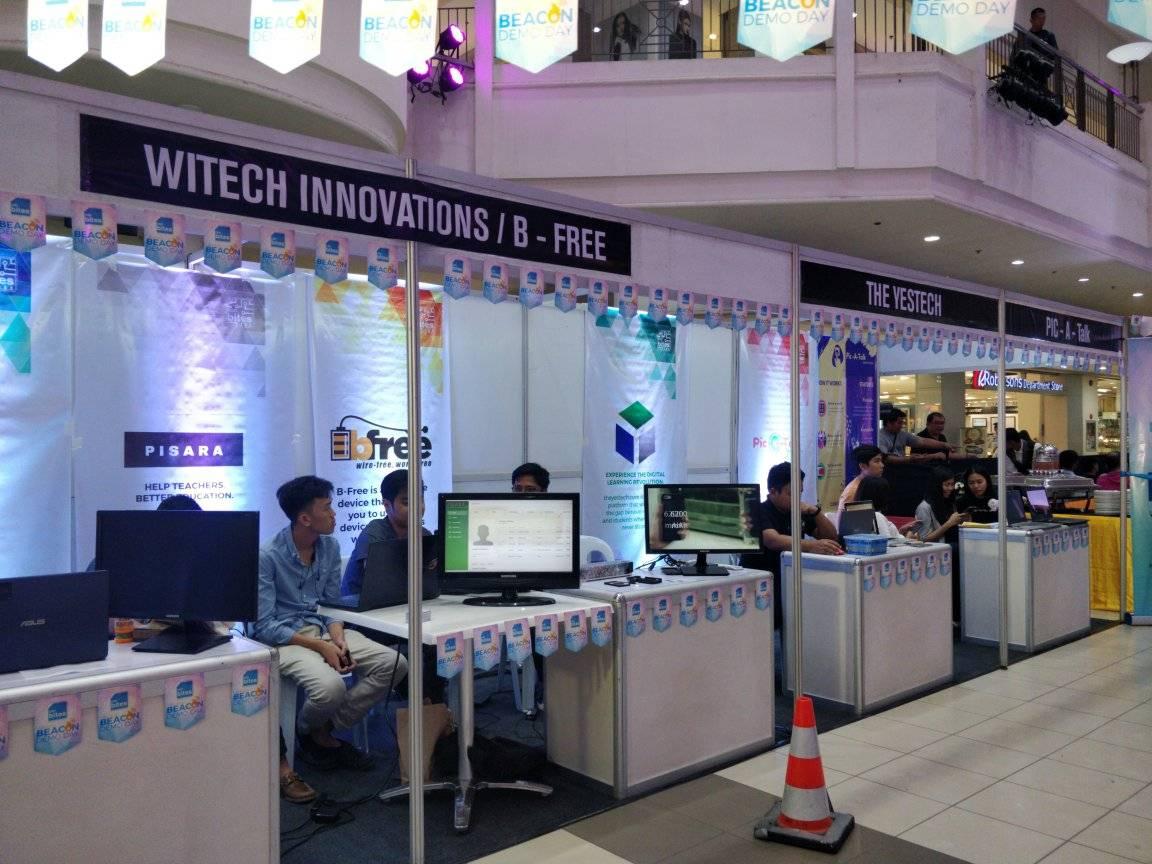 Exhibit kiosks of WiTech Innovations, bFree, YesTech, and Pic-A-Talk during the Beacon Demo Day at Limketkai Center
WiTech Innovations is a service. They are a boutique solutions provider focused on automating manual processes.
During the Demo Day event, they showed us a school entry logging system. The system uses RFID stickers on a student ID cards which are then swiped over a reader. If the RFID sticker is enrolled then the student is allowed entry. It also sends a SMS message to the student's parents. This is also the same when exiting the school.
The system has several other modules by request such using the RFID system to buy books in the school's bookstore or buying food from the school's canteen - an internal cashless transaction system.
If you want a sit down meeting with WiTech Innovations you can reach them at tap2.cdo@gmail.com.
And my number 1 pick...
bFree
bFree is a startup about making a large capacity power bank with a fast charge feature. Their power bank only needs to be plugged for 15 minutes to have enough charge for two 5" smart phones.
The prototype they had was working but very large. They assured me that the final product will be about one third the size of the prototype. They designed it so that it should fit in a lady's everyday handbag. Although, they did admit that they are still discussing the colors options.
Out of the groups during the demo day, they have the best fleshed out product. They also have an estimate on the price of their product which is not to exceed 4000 pesos. Which I think is comparable with existing large power banks prices. Impressive that they are already that far ahead that they can put a price on their final product.
You can reach out to them thru this email address: djrixg@gmail.com.
This event is a good example of how well the Cagayan de Oro startup scene is growing. A few of these startups might be the next big thing helping the local economy and community.

Disclaimer: This is a non-sponsored article. We do not guarantee any claims on any products mentioned.