Django Girls CDO invades Bukidnon
Aug 30, 2019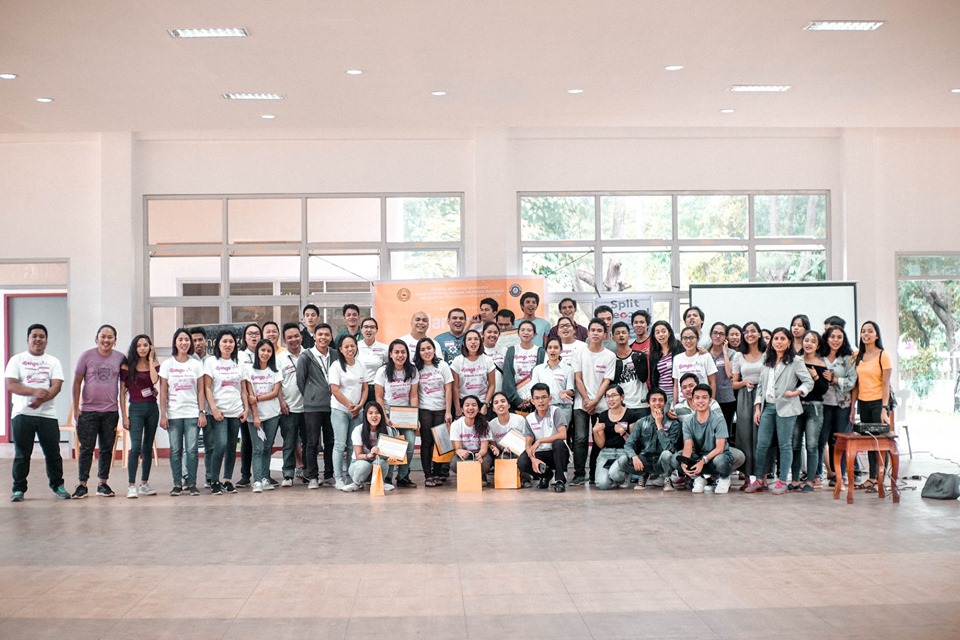 Workshop participants, organizers and coaches of the workshop held in CMU, Bukidnon (Photo by Django Girls CDO)
Django Girls Cagayan de Oro Chapter (Django Girls CDO) went out of town to conduct its first ever free web development workshop in Bukidnon. The workshop was held at the Engineering Auditorium of Central Mindanao University last August 17, 2019.
Django Girls is a non-profit organization and a community that empowers and helps women to organize free, one-day programming workshops by providing tools, resources and support. Django Girls is a volunteer-run organization with hundreds of people contributing to bring more amazing women into the world of technology. Django Girls CDO started to organize workshops two years ago in Cagayan de Oro City, and now they are reaching out to Bukidnon for their advocacy. Despite being primarily focused on women, the event welcomed coaches and participants from all ages and genders.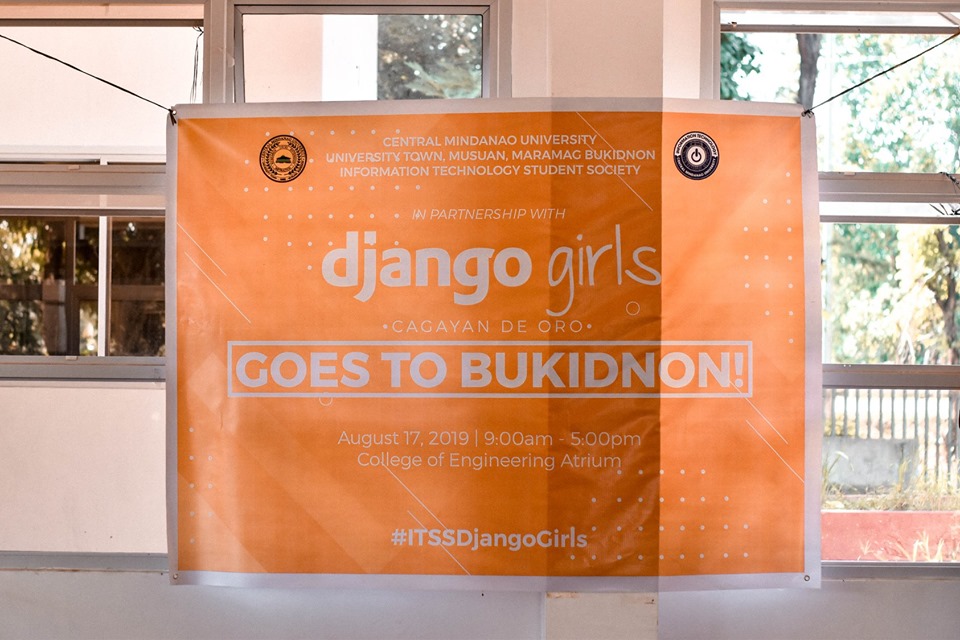 The Django Girls CDO goes to Bukidnon event tarpaulin (Photo by Django Girls CDO)
The event was organized in partnership with the Information Technology Students Society (ITSS) of Central Mindanao University, PyTsada (the Python community of Cagayan de Oro City), and PineapplePy (the Python community of Bukidnon). It was made possible with the help of its generous sponsors, Python Software Foundation, Split Second Software, Misfit Inc., and Innovuze Solutions Inc.

Before the actual workshop started, Ms. Freilla Mae Espinola, the Community Lead of Django Girls CDO, introduced the community and its advocacies, and was followed by the introduction of the workshop Coaches. Sponsors were also given the opportunity to share some background about their company.
The whole day workshop is primarily designed for beginners to spark their interest in programming especially in creating websites using HTML, CSS, Python and Django. Technologies such as Python and Django are free and open-source software, which means they can be used by anyone to create websites without paying licensing fees for using them. During the workshop, the participants got hands-on experience in web development by following the tutorial provided by Django Girls. Coaches from the industry were assigned to each group of participants guiding them in their journey of creating their first Django-powered website.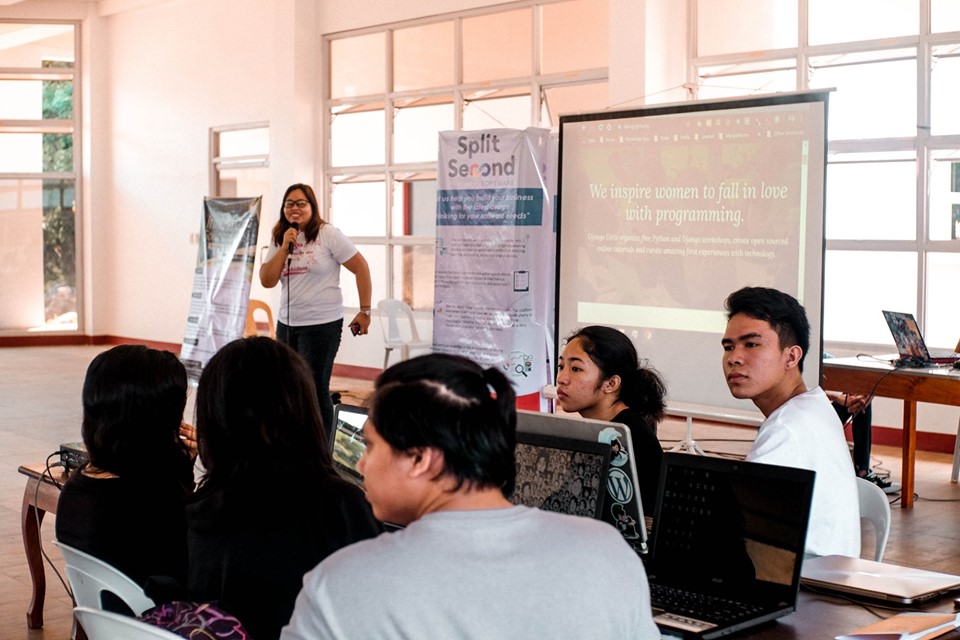 Freilla Mae Espinola introduces the Django Girls Community and the workshop coaches (Photo by Django Girls CDO)

The Workshop
The participants were introduced to Python programming. They were able to explore Python's data types, operators, conditions, loops, and functions with the use of an interpreter. Use of virtual environment and package management system were also included.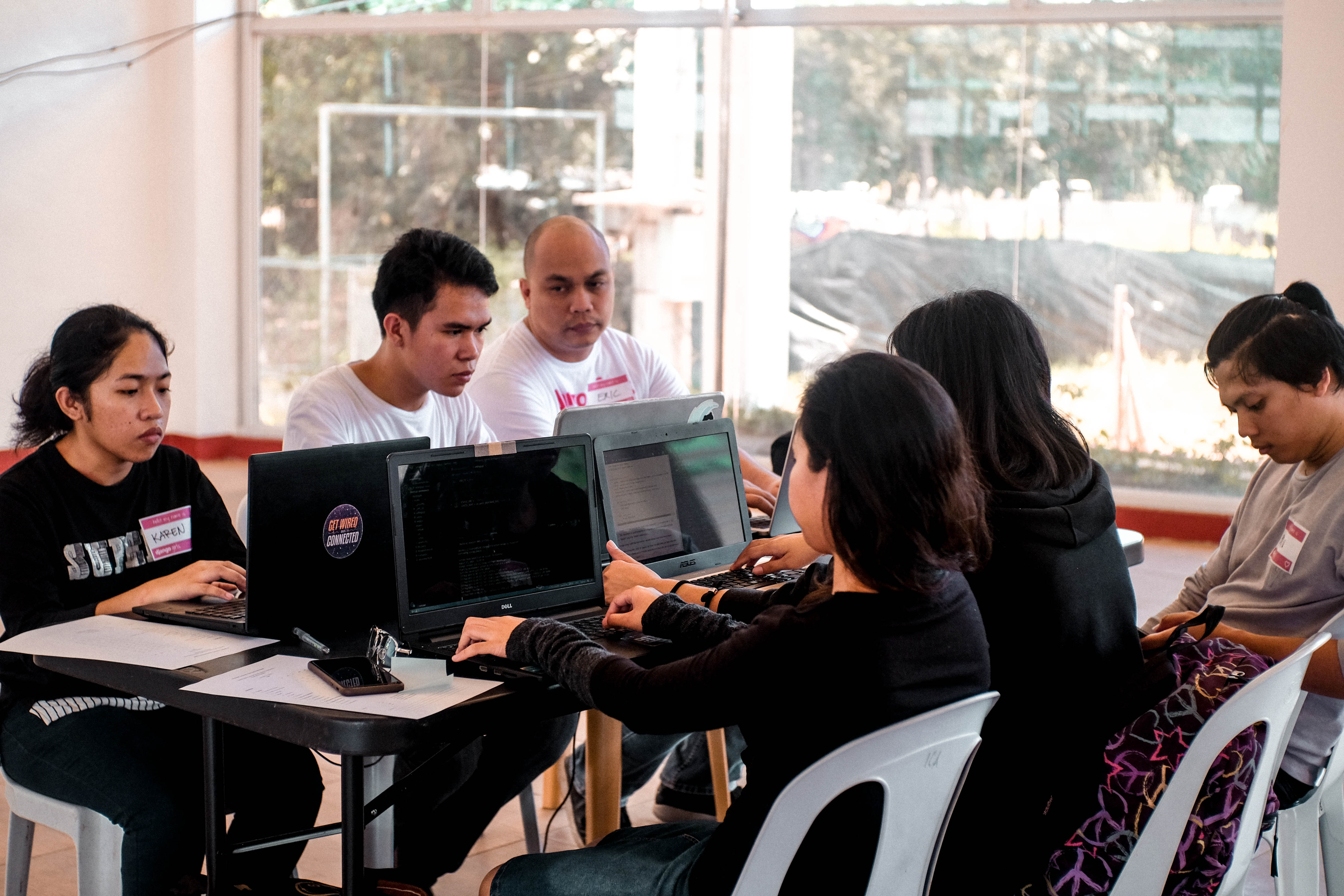 Eric Lagasca, one of the workshop coaches together with the attendees during the workshop (Photo by Django Girls CDO)
The participants were able to get a glimpse of how web development is done when they used Django's Object-relational Mapper, Routing, Views, Template Language, Forms, and its built-in Admin Interface for their project. They also got to deploy their project on PythonAnywhere.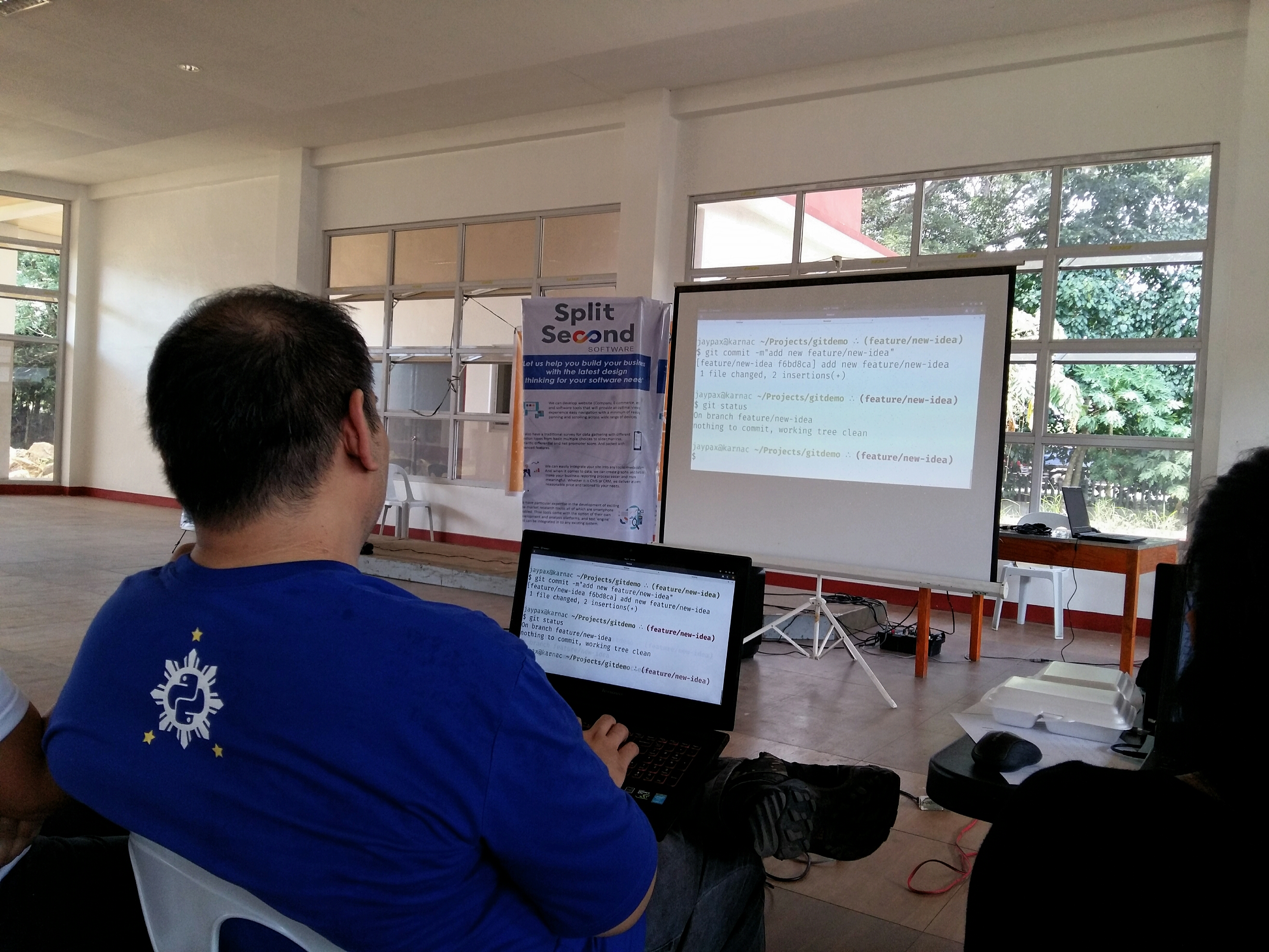 Jay Ginete introduces Git to the participants
In the afternoon, Mr. Jay Ginete gave a talk and demonstration on how to use Git, a system for easily tracking version changes of your project. He emphasized the importance of using such system in the management of a project's source code and demonstrated the basics of using it.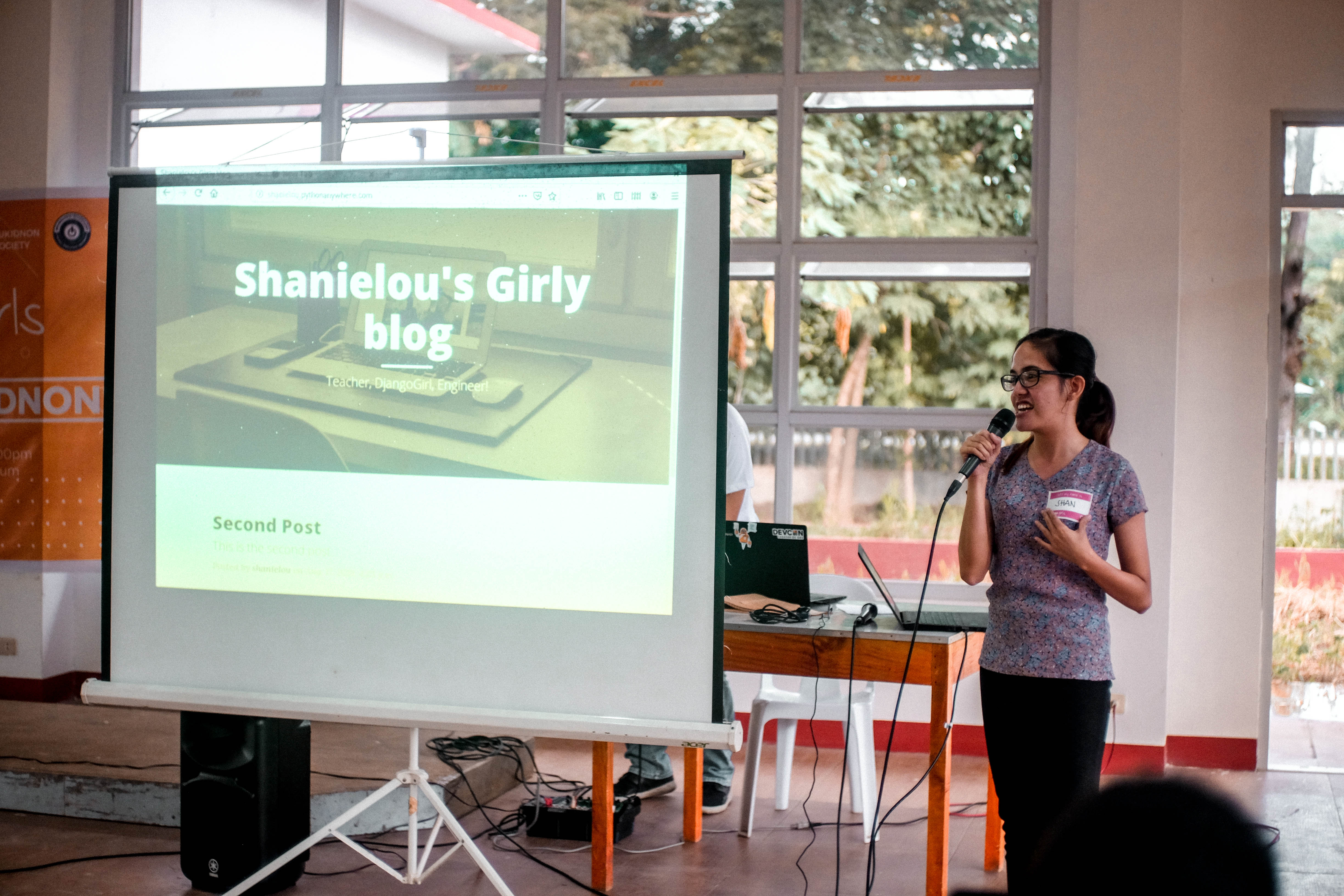 Ms. Shoshannim Lolo presents her final output from the workshop (Photo by Django Girls CDO)
Lastly, Ms. Shoshannim Lolo, one of the participants had the chance to present her final output and share her awesome first-time Django Girls Workshop experience. Stickers and shirts were given as prizes to the lucky winners of a raffle draw for the participants. Coaches received tokens and a certificate for sharing their knowledge and expertise during the workshop.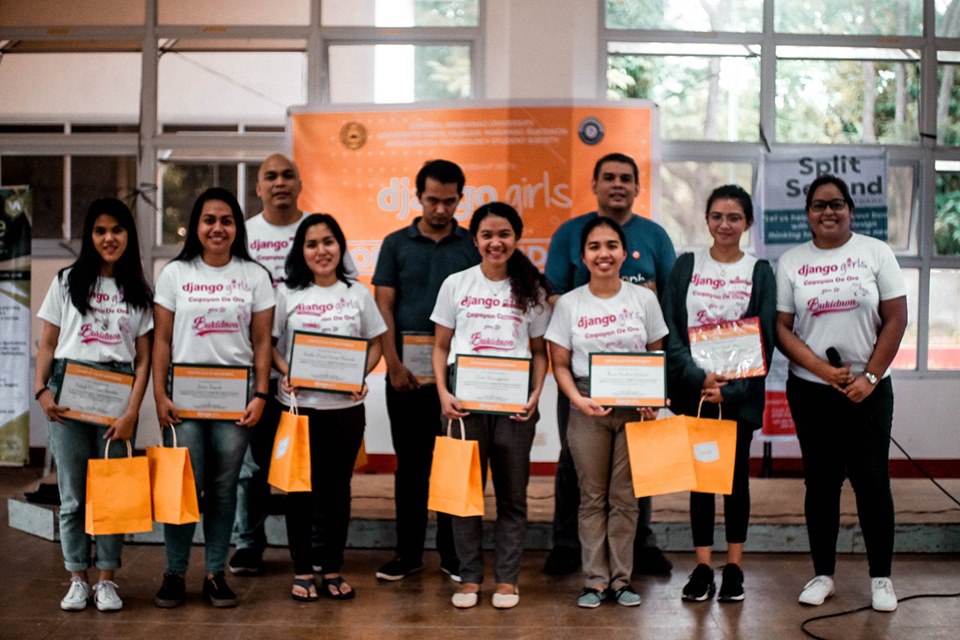 Django Girls CDO goes to Bukidnon Workshop Coaches: (from left) Valerie Quenesen Bantilan, Loren Zagado, Eric Lagasca, Keisha Louise Vivien Berondo, Paul Harriet Asiñero, Caren Divinagracia, Marie Danilene Bulosan, Jay Ginete, Irene Janica Pico and Freilla Espinola receiving their token and certificate (Photo by Django Girls CDO)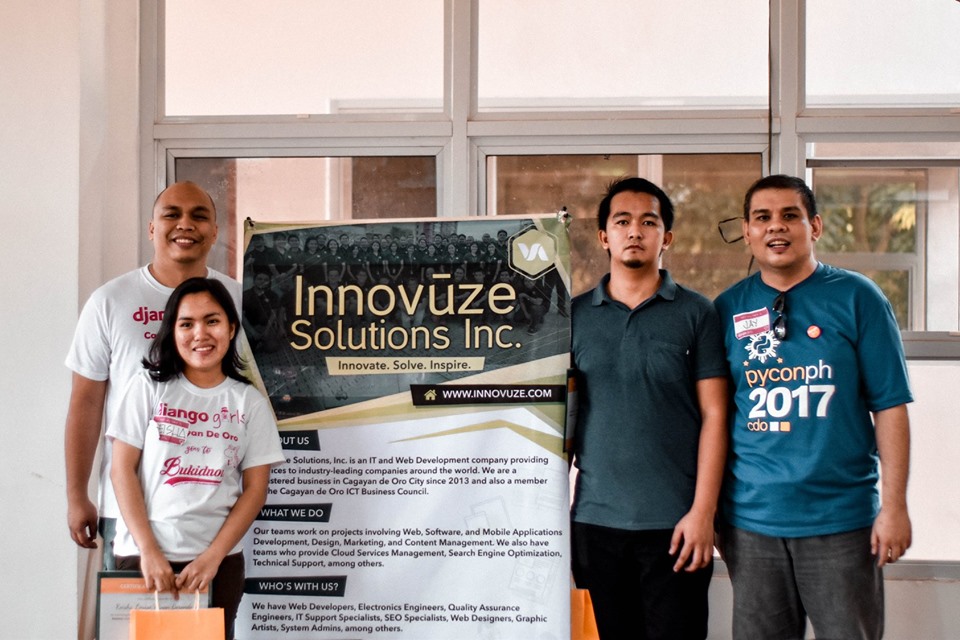 Workshop coaches coming from Innovuze Solutions Inc. (Photo by Django Girls CDO)
Events like is a great avenue for women to equip themselves with knowledge and skills highly relevant today. It is also one way of inspiring and empowering them to be a part of an industry dominated by men. This also showed how different communities and companies come as one to collaborate for a movement like this. Cheers to the success of the event and more awesome Django Girls workshops to come inside and outside Cagayan de Oro!
A Little Bit More About Django Girls CDO
Aside from organizing its own workshops, they were also invited by different schools and events like PyCon APAC 2019 which was held in Makati last February 23–24, 2019. If you want to know more about Django Girls, visit https://djangogirls.org or the Django Girls CDO official Facebook page https://www.facebook.com/djangogirlscdo.