Animation Workshop in CDO with experts from Cebu
Oct 17, 2017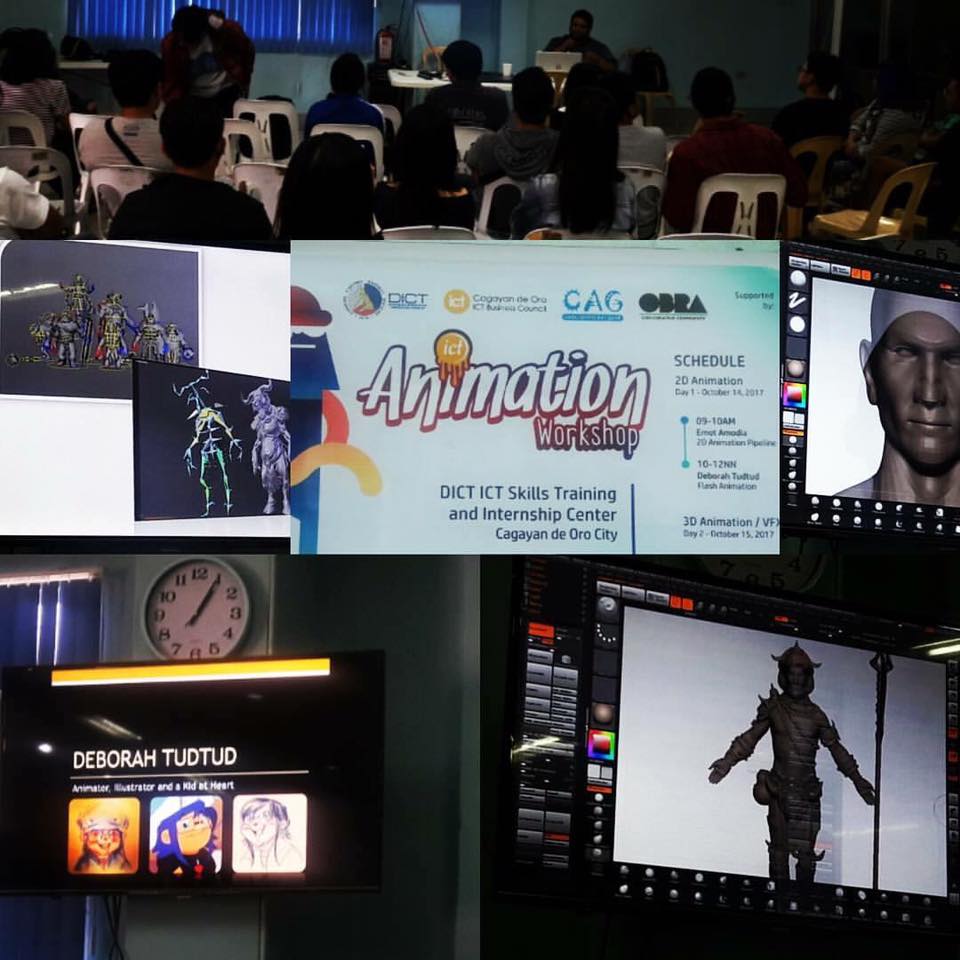 Cebu Animation Guild (CAG) brought themselves to Cagayan de Oro City for a prestigious two-day free animation workshop. The event was organized in partnership with CDO ICT Business Council, DICT, and OBRA CDO Creative Community, supported by CDO B.I.T.E.S. and CDO Innovation Network (COIN), with the help of its sponsors; Platypus, Engagis Creatives, Innovuze Solutions, STI-CDO, Scribbles and Specialized Outsource Partners.
The ICT Animation Workshop was held last October 14-15, 2017 at the DICT ICT Skills Training and Internship Center located at T. Chavez corner Tiano Bros. Sts., Cagayan de Oro City. The goal of the workshop is to inspire and encourage local talented artists/animators to improve and develop their skills in animation.
The following is the two-day workshop's outline of topics with their respective speakers, which includes 2D Animation, 3D Animation, and Visual Effects (VFX):
Day 1 - Saturday October 14, 2017
Philmore "Emot" Amodia - 2D Animation Pipeline
Mr. Amot, President of CAG and Art Director of Emottoons Studio, opened the workshop and talked about 2D Animation Pipeline. Orliza Grace Evangelista, wife of Mr. Amot and project manager of Emottoons Studio, followed and discussed the history of the company and their struggle to bring the studio to the top.
Deborah Tudtud - Flash Animation
Ms. Deborah talked about Flash Animation as she impresses the audience with her life story and talent in music, voice, and illustration.
Carlyn Dee Ceniza - Toon Boom
Ms. Carlyn showed the participants how to use Toon Boom, a software that specializes in animation production and storyboarding.
Paulino Llido - Realities of the Animation Industry
At the end of the day Mr. Paul talked about the ways of how to start up a studio and how to build a network of people to help you get your business grow.
Day 2 - Sunday, October 15, 2017
Mark Fernandez - 3D Animation Pipeline

Mr. Mark opened the second day of the workshop with his talk about 3D Animation Pipeline.
Kenneth Garcia - 3D Sculpting
Mr. Kenneth talked about 3D Sculpting and amazed the crowd as he showcased his portfolio filled with illustration of marvelous characters.
Raoul Jonas Padilla - 3D Rigging
Mr. Raoul discussed 3D rigging, the process of creating a digital skeleton for a 3D mesh/model before it can be animated, this enables the animator to manipulate the movement of a 3D model.
Candice Bacas - 3D animation
Ms. Candice, a fellow Kagay-anon that pursued her career in Cebu, showed the techniques of how to be a good 3D animator.
Elohim Tampus - Visual Effects (VFX)
Lastly, they saved the best for last, Mr. Elohim, an international VFX artist, talked about the importance of visual effects and the right tools to be used. He also shared his life story on how he climb his success to Hollywood. Some of his works can be seen in movies like; Justice League, Avengers, Pirates of the Caribbean, Fast and Furious, Godzilla, G.I.Joe, and a lot more. So the next time you watch a CGI filled movie, stay until the credits are done rolling and remember the name, Elohim Cervantes Tampus.
Overall, the event was a success and everybody left the room with hopes of taking a step further into the world of animation. As Mr. Paulino Llideau said, "this is history in the making" as they planned the creation of future animation guild in Cagayan de Oro City. A very promising day for Kagay-anon artists, opening doors into the wide world of animation.