Beacon Demo Day 2023: Showcasing the Power of Entrepreneurship
Mar 16, 2023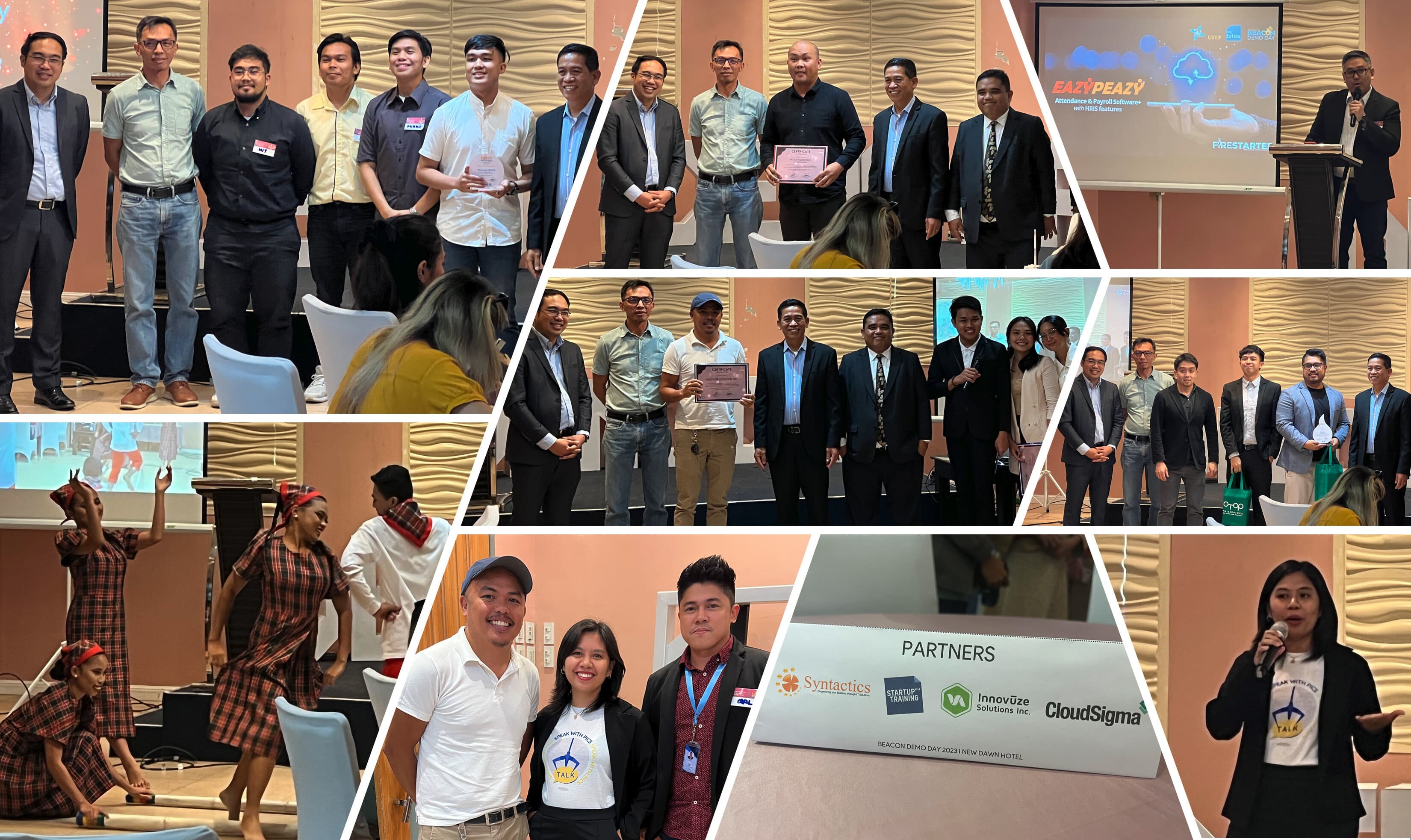 The Beacon Demo Day 2023 was a huge success, bringing together entrepreneurs, investors, and business enthusiasts nationwide. The event, which took place on March 14th at New Dawn Hotel in Cagayan de Oro, showcased the power of entrepreneurship and the future of business.
The program kicked off at 3:00 PM with the arrival of guests and registration, followed by the invocation and national anthem. Atty. Dionel Albina, Chancellor of the University of Science and Technology of Southern Philippines (USTP) in Cagayan de Oro, gave the opening remarks, while Dr. Ambrocio B. Cultura II, President of the USTP System, delivered a message to the attendees.
The event featured a promotional video and an innovative message by Engr. Alex Maureal, Vice Chancellor for Research and Innovation of USTP CDO. The highlight of the event was the pitching proper, where 10 startup companies from CDOBites' Cohort 6 presented their innovative ideas to a panel of judges and investors.
The 10 startups, which received mentorship and guidance from the CDOBites program, presented a wide range of ideas and solutions to various problems.
Green Impact presented a tech-enabled sustainable travel company that provides eco tours, nature experiences, and activities.

Fresco - Greenovation aims to promote and transform agriculture through digitalization and automation.

Mold Solutions aims to provide a full spectrum of HR services to its clients.

ReCool Technologies fosters a clean and efficient fishery business through sustainable technological solutions.

Fella presented a food and beverage interactive digital menu and ordering app designed and built for hotels and restaurants.

Lyfewire is a startup primarily focused on energy storage solutions for electric vehicles, custom-fit depending on the user.

KaHero offers cloud point-of-sale solutions to help micro, small to medium businesses scale fast.

Minas is a financial technology that offers a secure and streamlined platform for B2B payments.

PointersBit envisions an advancement in building personalized and enterprise software integration application with bleeding-edge technology.

BNTM is a local tech startup based in Cagayan de Oro City, Misamis Oriental, and your one-stop website builder.
The event also featured Uma Roa, a former coworker at Innovuze Solutions, Inc., and a product of CDOBites' Cohort 3. Uma Roa had the privilege to pitch during the networking session and introduced Pic-A-Talk, a picture exchange communication system in a mobile application. The system consists of images of words that are easily identifiable by any user, which helps children with communication disabilities express themselves and connect with the people around them.
Aside from the pitching session, the event also featured an intermission number by the Arts and Culture Division of USTP, followed by the awarding ceremony, dinner, and networking session. The networking session provided an opportunity for entrepreneurs, investors, and other attendees to connect and exchange ideas, contacts, and potential collaborations.
The success of the Beacon Demo Day 2023 wouldn't be possible without the support of the amazing partners who provided guidance, mentorship, and resources to the startups. The event's VIP guests included the Leave a Nest Group, CloudSigma, Exoasia Innovation Hub, Fligno, First Community Cooperative (FICCO), and Kaya Ventures. Meanwhile, the partners of the event included New Energy Nexus - Philippines, Innovuze Solutions, Inc., and Startup PH.
Overall, Beacon Demo Day showcased the power of entrepreneurship and innovation. It showcased some of the most promising startups in Cagayan de Oro City, and it provided a platform for these startups to connect with the wider business community. It was a celebration of creativity, passion, and hard work, and it was clear that the startups had put their hearts and souls into their businesses.
We'd like to thank all of the participants, partners, and guests who made Beacon Demo Day possible. We're grateful for your support, and we're excited to see what the future holds for these startups. We hope that Beacon Demo Day has inspired others to pursue their entrepreneurial dreams, and that it has shown the world that the next big thing could be just around the corner. Until next time, keep innovating!